If you have an outdoor set of steps at your home, you know how slippery they can get when the temperature drops. Autumn's first morning frost can be a recipe for a dangerous fall, and winter's sleet, ice, and snow will create slip and fall hazards on your outdoor stairs. Even if you live in an area that rarely reaches low temperatures, moisture from rain or morning dew is unavoidable outdoors and can cause your stairs to become extremely slippery. 
Regardless of the weather, your number one concern when it comes to your outdoor stairs is the safety of your loved ones. The best way to prevent potentially dangerous slips and falls is to install some sort of non-slip solution onto the treads of your outdoor stairs. However, not all non-slip stair treads are created equally. If you start your search for non-slip stair treads on Google, you'll find that a majority of the search results you're met with are for thin, peel-and-stick treads with a sandpaper-like surface. While these adhesive treads may provide a bit more traction than the average stair tread, they are almost never the ideal non-slip solution for outdoor stairs. In this blog, we'll explain why adhesive grit treads shouldn't be used outdoors, as well as provide solutions that should be used instead.  
Why Shouldn't Peel-and-Stick Non-Slip Treads Be Used Outdoors?
There are multiple reasons why adhesive non-slip stair treads are not the best choice for preventing slips and falls on outdoor stairs. Below, we will go in-depth to explain the main four reasons.  
Limited Usability  
Firstly, peel-and-stick grit treads cannot be used on just any set of outdoor stairs. In order for the adhesive to adhere to the stair tread, the surface must be flat, non-porous, and sealed. Because concrete stairs have a rough, porous surface, peel-and-stick treads will not be able to properly adhere to them. Even on wood stairs, if the wood is not painted or sealed, the adhesive will not sufficiently stick to them. This limited usability means that adhesive-backed treads may not even work on your set of stairs without extensive surface preparation, covered in the next section. 
Extensive Surface Preparation 
Besides being limited in the types of surfaces that they can adhere to, peel-and-stick treads also require extensive surface preparation before application. Before applying the adhesive-backed treads to your stairs, you must first fill in any cracks on the stair treads as well as seal the surface to a smooth finish. This not only adds to the cost but also the time needed for installation. You must also make sure the surface is completely dry and free from any dirt or debris. Finally, the surface temperature must be above 50° F for the adhesive to correctly adhere. This means that peel-and-stick treads cannot be applied at any time during the year or during certain weather conditions.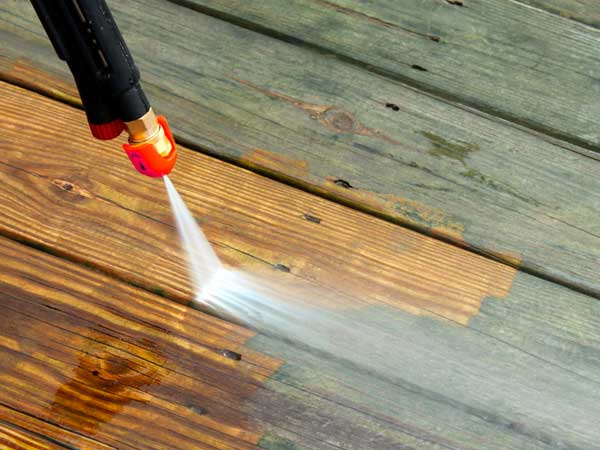 Weather and Environmental Conditions
As you read in the last section, adhesive non-slip stair treads cannot be applied in certain weather or environmental conditions. These conditions will also affect how well the grit treads will perform outside. Firstly, changing temperatures will impact the efficacy of the adhesive. Even if the non-slip treads were applied at the proper temperature, colder temperatures can cause the adhesive to contract while warmer temperatures can cause it to expand. This expansion and contraction will cause the grit tread to lose adhesion. Moisture can also be a factor in the loss of adhesion of the treads. As moisture, which can come in the form of rain, sleet, snow, or morning dew, collects on top of the tread it can cause the adhesive to fail over time. 
These weather and environmental conditions can also affect the efficacy of the treads' traction. Because the treads are thin, like a sheet of sandpaper, they can easily be covered in water, ice, snow, or debris. When the grit surface is covered, it is unable to grip onto your shoe to provide traction. This is especially true in the fall and winter months when fallen leaves or snow can collect on top of the treads and render them virtually useless. 
It is not surprising that something as thin as sandpaper will not be durable. As discussed in the section above, temperature and weather conditions will cause the adhesive-backed treads to quickly fail. On average, peel-and-stick non-slip treads will only last about a year in outdoor conditions. Once the adhesive starts to fail, the treads will start peeling up. This in itself is a trip and fall hazard, the exact thing the grit treads were meant to prevent. The treads can also become damaged in the winter months as the snow piles up. You'll need to remove heavy snow from the treads to maintain some sort of traction, but since they have a paper backing, a show shovel used to remove the snow will also damage the treads.
The Ideal Non-Slip Solution for Outdoor Stairs
While peel-and-stick grit treads may not be the best choice for your outdoor stairs, there are other options available. It will come as no surprise that we favor our HandiTreads Aluminum Non-Slip Stair Treads. HandiTreads possess numerous benefits that adhesive grit treads just can't measure up to. Let's explore why: 
Works on All Outdoor Stairs 
Unlike grit treads that require a sealed, non-porous surface, HandiTreads non-slip solutions can be applied to virtually any surface including natural or synthetic wood, concrete, stone, masonry, or metal. While grit treads can usually only be found in gray or yellow shades, HandiTreads are available in four designer earth-toned shades including Java Brown, Chestnut Brown, Obsidian Black, and New England Gray. This shade range was selected to match or complement popular deck and stair colors, making HandiTreads ideal for homeowners who value both safety and home design. 
While the surface should be free of debris like leaves or snow, no surface preparation is required before installing HandiTreads. No need to worry about filling in cracks or sealing the surface. HandiTreads can also be installed at any temperature, unlike peel-and-stick treads because there is no adhesive for the temperature to interfere with. You don't need to wait until a certain time in the year to install HandiTreads. The surface can be cold or damp like it would likely be in the fall or winter months when non-slip protection is greatly needed. All you need to do to install HandiTreads is align the treads on your stairs and then attach them to the steps using a power drill and the included color-matched screws.
Traction in Any Weather or Environmental Conditions
HandiTreads aluminum non-slip solutions feature an exclusive patented raised-button traction surface. This unique design provides unbeatable traction in virtually any weather or environmental condition. The powder-coated aluminum construction means that the treads will not rust even when subjected to moisture for long periods of time. When stepped on, the treads make solid contact with your shoe or foot and dispel up to an inch of water, sleet, ice, snow, or debris like grass clippings or fallen leaves. In the winter months, if deep snow collects on the treads, a snow shovel can be safely used on the treads to clear the traction surface. 
The durability and longevity of HandiTreads aluminum non-slip solutions are unmatched. HandiTreads Stair Treads, Stair Nosings, and Deck Treads are built tough and guaranteed to last a lifetime in residential applications. Once they're installed, HandiTreads require no further maintenance or replacement, making them your lifelong slip-and-fall solution.
Here to Keep Your Family Safe 
The safety of your family and loved ones will always be your #1 concern and HandiTreads' #1 goal. You never know when a simple slip down the stairs or on the deck can become deadly. Our non-slip solutions are designed and manufactured to prevent slips and falls for a lifetime at your home. Grant yourself some peace of mind with HandiTreads.