With the World Health Organization reporting that
falls are the second leading cause of unintentional death worldwide
, the outdoor stairs at your home can be dangerous slip and fall hazards for a multitude of reasons. One of the main reasons that outdoor stairs become slippery and hazardous is that, unlike inside your home, they are exposed to nature's elements. Unavoidable conditions like rain or even morning dew can create a slippery set of outside stairs.
Additionally, these factors can also cause the outdoor stairs at your home to become incredibly slippery and dangerous:  
Moisture collection

Mold or mildew 

Rain, sleet, and hail

Ice and snow 

Debris like mud or fallen leaves 

Degradation of building materials 
The best way to combat these slip and fall hazards is to install non-slip outdoor treads on your stairs. Generally, the non-slip treads are attached onto the stair tread and provide traction by creating solid contact between tread and shoe. There are other non-slip solutions that can be used on stairs like grit tape or anti-skid coatings, but outdoor stair treads are typically the most durable year round solution.
Types of Outdoor Stair Treads
Below, we have reviewed a number of outdoor stair treads that vary in material, cost, application, and durability. As you read, you will find that each type of non-slip stair tread has its own advantages and disadvantages. This guide is meant to assist you in choosing the best non-slip outdoor stair treads for your home in order to protect yourself and your family from slips, trips, and falls.
Dean Flooring Company Carpet Stair Treads
Material
While carpet treads may be more widely used inside the home, the Dean Flooring Company carpet stair treads are intended for use both indoors and outdoors. Unlike the carpeting found in most homes, the carpeting of these stair treads is corrugated in order to create traction and to act as a better defense against water and dirt. However, the treads are still able to harbor debris and moisture in the carpet fibers. This can cause mold or mildew growth, as well as degradation to the carpet. The treads are available in three different sizes but only in one black shade.
Application
To install the carpet stair treads, Dean Flooring Company recommends using double-sided tape (bought separately). The treads are only meant to be applied on wood, so they will not adhere properly to concrete, stone, or metal steps.  
Durability 
Because they are only installed using double-sided tape outside, the carpet stair treads will likely need to be reapplied frequently as tape cannot stand up to outdoor elements like moisture and debris. The carpet stair treads can also become a slip and fall hazard in themselves as the corners can easily peel up from the weak tape. Once the weather turns colder, water harbored in the carpet fibers can create a dangerous sheet of ice. Snow shovels also cannot be used to remove accumulated snow as they would surely pull up the tape and tread. While they are sold as an outdoor solution, these carpeted stair treads would most likely work better indoors. 
Cost
The cost of these carpet stair treads varies by size and package quantity, and you do save a bit per tread when purchasing a larger package quantity. Prices range from $59.99 for a pack of seven 24" x 7" treads to $139.99 for a pack of 15 30" x 8" treads.
Koffler Sales Company Rubber Stair Treads
Material
Koffler Sales Company claims their rubber stair treads are approved for outdoor installations. The non-slip stair treads are intended to provide traction year round, and will maintain their original form during all types of outdoor conditions. Because they are only available in a black shade, the rubber stair treads can become incredibly hot during sunny days, similar to asphalt, and may not be comfortable for bare feet or paws.
Application
The rubber stair treads are installed using an epoxy adhesive that can also be purchased from Koffler's website. The application can be a little tricky, as two parts must be mixed together to create the adhesive. It should also only be applied when the outdoor temperature is approximately 70 degrees, and each stair tread has been meticulously cleaned beforehand. The adhesive is heavy-duty, and can be used in areas where moisture will exist. The rubber treads can also be cut using a steel knife if needed. This allows them to have an exact fit on any outdoor stair. 
Durability 
Koffler Sales Company has personally tested their rubber stair treads to ensure that they hold up in outdoor conditions. They also say that the treads last several years, with some customers having them for 10 years. However, there are some conditions that greatly decrease the lifespan of these rubber stair treads. While rubber is naturally non-slip, the traction is greatly reduced in rain, sleet, snow, or ice. The grooves in the Koffler rubber treads are not very deep and do not have a place to drain, so can surely harbor water and ice. You also cannot use a snow shovel to remove accumulated snow from rubber stair treads. While it is advantageous that the treads can be cut for an exact fit during installation, that means that a snow shovel can also easily damage the material. Depending on location and moisture, the adhesive may also need to be replaced to ensure a secure application. 
Cost 
The price of the Koffler rubber stair treads can range from $44.33 each for a 7" x 36" tread, to $185.20 each for a 12⅜" x 72" tread. Depending on how many outdoor stairs you have, as well as the cost of the required adhesive for installation ($110.83 for a gallon), the application of these rubber stair treads is extremely expensive.
Dino Grip Fiber-Reinforced Plastic Stair Treads 
Material
The Dino Grip stair treads are constructed of prefabricated fiber-reinforced plastic and glass-reinforced plastic that provides coverage to the entire stair tread. The coarse texture of the tread is what provides traction while walking. Unlike other non-slip stair treads, the Dino Grip stair tread includes a nosing section that goes over the front part of the step. The treads are available in a black shade with a yellow safety stripe on the nosing section. While they can be installed on most steps (including your home), the Dino Grip stair treads are marketed more towards commercial applications.
Application
To install the Dino Grip stair treads, use a power drill to drill through the tread surface in your desired anchoring locations. Then, screw into position using the included screws. Like other treads, concrete lags must be used if installing the tread on stone or concrete. If needed, the treads can also be cut with a saw for an exact fit on your outdoor stairs.  
Durability 
Because they are intended for mostly commercial applications, the treads can withstand heavy foot traffic. Dino Grip estimates that their treads will last over 10 years in most applications. The carbon and silicon grip top surface of the treads provides sufficient traction, however, they cannot provide sufficient traction in ice or snow. Once a layer of snow, sleet, or ice coats the tread, the carbide grit will not be able to safely grip to your shoe. The Dino Grip stair treads may be sufficient for most of the year but are not the best option for locations that receive snow in the winter. It is recommended that you not use a snow shovel to remove snow from Dino Grip treads.
Cost
Available in three sizes, the cost of the Dino Grip stair treads varies from $42.84 per each 2ft x 13.5" x 2" tread, $85.67 per each 4ft x 13.5" x 2" tread, and $171.38 per each 8ft x 13.5" x 2" tread. Even if you only have a few outdoor steps to cover, the cost of investment for these treads is quite expensive. The treads are also not covered by a warranty, so you would need to pay to replace any if they become damaged. 
GripStrip Plastic Stair Treads 
Material
GripStrips are constructed of plastic and are resistant to weather, pressure washing, shoveling, and salting. Because of their plastic construction, they will not rust or mold. The surface of GripStrips are covered with small spikes that provide traction in various outdoor conditions. However, the spikes are quite sharp and may need to be filed down if they are to be walked on with bare feet or paws. GripStrips are available in three sizes: 32" x 2" (GripStrip), 12" x 2" (GripStrip Extensions), and 15" x 3.25" (GripStrip Max). They can be purchased in beige, black, gray, or yellow shades.
Application
GripStrips install easily with the included wood screws. All you need is a power drill to screw the treads into place. If installing on concrete or stone, concrete lags must be purchased for proper installation. 
Durability 
GripStrip recommends inspecting the treads regularly for wear and damage. It is unclear how long the treads are intended to last in your home, but GripStrip does recommend that you replace treads that have become worn or damaged. The spikes on the surface of the treads can surely provide traction in wet conditions, but they may not hold up in colder climates. As snow falls or as water turns to ice, traction spikes can easily be covered and rendered useless. Snow should be removed from the treads as soon as it starts falling to ensure it does not become compacted and turn into a sheet of ice. Care must also be taken when using a shovel shovel because the edge can surely damage the plastic spikes. 
Cost
The GripStrip treads are available in packs of 2, 8, or 100. Depending upon the size and package quantity, the cost can range from $20 CAD for a pack of two 32" x 2" GripStrips to $702.10 CAD for a pack of 100. Depending on how many you purchase, these treads can be an initial cost-effective solution. However, since there is no warranty, you may also need to factor in the cost of replacement treads down the line.
HandiTreads Aluminum Stair Treads
Material
HandiTreads non-slip stair treads are constructed of hard-wearing aluminum. Because of this, they will not rust and will not harbor mold or mildew. The surface of HandiTreads is powder-coated and has patented raised buttons that provide traction. They are available in three sizes (30" x 3.75", 36" x 3.75", and 48" x 3.75") to fit the majority of stair sizes. With four shades to choose from, Chestnut Brown, Java Brown, New England Gray, or Obsidian Black, the treads will match most deck and porch colors.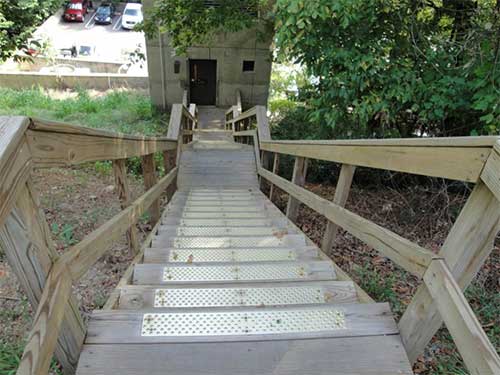 Application
HandiTreads can be applied to virtually any surface like wood, tile, concrete, stone, or metal. The installation process is simple, only requiring the use of a power drill to affix the treads to your stairs with the included color-matched screws. If applying to concrete or stone, be sure to use concrete anchor pins for proper installation. After application, there is no required maintenance for the treads. 
Durability 
Unlike any of the other non-slip stair treads mentioned above, HandiTreads have a lifetime residential warranty, meaning they are guaranteed to provide unbeatable traction year after year in your home. The patented raised traction buttons provide slip and fall protection in all weather conditions including rain, sleet, and up to an inch of snow or ice. It is also safe to use a snow shovel with HandiTreads in order to clear deep snow without fear of damage to the treads.  
Cost
Depending upon the size purchased, the cost per tread can vary from $19.95 for a 30" x 3.75" tread, to $32.95 for a 48" x 3.75" tread. Because HandiTreads are a lifetime solution with once-and-done installation and maintenance, their initial cost can be higher than some other solutions. When calculated over a three to five year performance period, however, the investment in HandiTreads is often the most cost-effective solution
Your Family's Safety is Most Important
With the end goal being your and your loved one's safety, choosing the right non-slip stair tread can feel like a critical task. By knowing what to expect from each type of non-slip stair tread, you will feel better equipped to employ the solution that will best prevent slips, trips, and falls on your outdoor stairs. If you have any other questions about HandiTreads, please contact us using the chat button at the top of this page, or call us at 877-328-7389.