Even though your deck is no longer the location of sizzling BBQs and your porch chairs remain empty, you're probably still using your outdoor porch, deck, stairs, or ramp in the wintertime. Whether you're letting your dog out, decorating for the holidays, or leaving the house for work, walking on your deck or porch and connecting stairs or ramp is a necessary part of your day. Frigid winter months bring frost, snow, and ice, making these outdoor structures extremely slippery and dangerous.
The best way to make decks, porches, ramps, and stairs less slippery, and therefore safer, is to install some sort of non-slip solution. A solution readily available in big box stores is outdoor rugs and mats. Whether it be a welcome mat or outdoor area rug used on the majority of the deck, these solutions are widely used. While these mats may be used for aesthetic purposes to dress up the porch, they are also designed to be non-slip and provide traction on slippery surfaces.  
In this blog, we'll explore the main types of non-slip mats and determine where they fall short. For comparison, we will also explore a safer, longer-lasting, and more durable alternative to "non-slip" outdoor mats. 
Types of Mats Used on Decks, Ramps, and Stairs
Mats and rugs are sold in various sizes to accommodate a wide range of spaces and structures. While an area rug may be sufficient for a deck, a runner would make more sense for a ramp and smaller individual mats can be used on the top of stair treads. Regardless of size, outdoor non-slip mats most often fall under one of the categories below. 
Carpet and Rubber Mats
When it comes to carpet and rubber outdoor mats, the options are primarily fully rubber or have a rubber base with a carpeted surface. Fully rubber options like these stairs treads or carpeted rubber options like this runner are meant to provide traction in areas with heavy foot traffic at your home.
The biggest problem with these types of mats is that they are easily moved or rolled up. Whether it be a windy day or your foot catching on the corner, these mats can quickly become fall hazards in themselves because they are easily tripped on. In order to prevent them from moving or rolling up to create even bigger safety issues, adhesive will need to be applied. This can be another drawback because adhesives will not work properly if applied in cold weather and the surface will need extensive preparation before application. 
Additionally, adhesives are not meant to last long-term in outdoor conditions as cold weather and moisture can interfere. Even with the mats adhered to your deck, ramp, or stairs, they will still begin to roll up and create a trip hazard.
Beyond properly adhering the mats, they offer little traction. While they may provide traction in wet weather, if they're not already slipping in place, these mats are rendered useless in climates that experience snow and ice. When attempting to clear the snow or ice with a snow shovel, the mats can also be easily damaged and will need to be replaced. 
Coir Mats
Another popular option that homeowners have used to create traction on their decks, porches, and stairs is coir mats. Coir is the fiber on the outer husk of a coconut that is commonly turned into fabrics or ropes. It has a rough texture, meaning it can create some traction when stepped on. Coir mats seem like a good investment because they are constructed of a natural and sustainable material, but the benefits end there.
Because it is a natural fiber, coir is very lightweight. Because of this, the coir mats will roll up and slip around even more than the rubber mats mentioned above. Coir mats will most definitely need to be adhered to the surface they are applied to if they are meant to provide any traction at all. Because it's very fibrous, adhesives are not the best option. Some homeowners who have used coir mats have attached them to their decks or stairs using screws and washers. Even when secured to the surface, heavy foot traction will wear down the material and thus its non-slip properties. Much like rubber mats, coir mats are also rendered useless in ice or snow, especially if they are not properly secured. Show shovels are even more destructive to the coir fiber, so trying to clear them of snow or ice will badly damage them. 
Ice-Melting Mats 
Finally, what seems to be the most effective at preventing slippery ice and snow from collecting are ice-melting mats. These mats are connected to a power source and heat up, therefore melting snow and preventing ice from forming on top of them. While this might seem like an ideal non-slip solution for the wintertime, ice-melting mats have several drawbacks.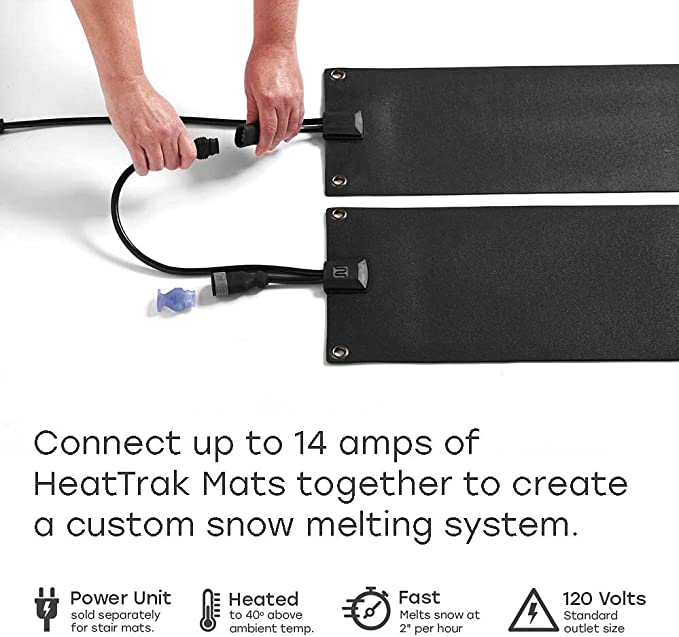 Firstly, since they are powered by electricity, ice-melting mats must be placed near outdoor outlets or connected to those outlets using extension cords. While there are extension cords that are designed for outdoors, using them for prolonged periods of time in wet, snowy conditions can wear down the cord and cause safety risks like sparking or electric shocks. 
Secondly, ice-melting mats are very flat. Once the snow is melted by the mat, the water can pool on top of the mat. This can cause another slip and fall hazard since the mat itself does not provide much traction beyond melting snow.
Lastly, ice-melting mats are very expensive and only cover a small area. In order to cover the walkway from your front or back door, across your deck or porch, and down the stairs, you will need to purchase multiple mats. This 30"x60" size costs $300, and you'll likely need multiple mats to cover the areas you'll need to walk on. There are smaller sizes available for stairs, but even those average $100 each. If you have a small set of three stairs attached to your deck, that'll cost around $300-$400. With these multiple mats, you'll also need to think about power sources and connecting the mats together. 
Non-Slip Aluminum Treads for Outdoor Decks, Ramps, and Stairs
An alternative to outdoor non-slip mats is HandiTreads aluminum non-slip treads for stairs, decks, and ramps. Below, we've described what sets them apart from non-slip mats. 
Multiple Sizes and Colors 
HandiTreads are available in multiple styles, sizes, and colors to fit any residential application. HandiTreads stair treads are designed specifically for use on stairs, are 2.75" wide, and come in 30", 36", and 48" lengths. Similarly, HandiTreads stair nosings, which feature a flap that folds over the edge of the stair, are also available in 30", 36", and 48" lengths. HandiTreads deck/ramp treads are about 2 inches wide and 48" long. This size is ideal for covering larger areas like decks, porches, or the length of an outdoor ramp.
HandiTreads aluminum non-slip solutions are powder-coated in 4 earth-toned shades that will match or complement any outdoor deck or stair color. This makes them perfect for homeowners who value both design and safety. Additionally, HandiTreads stair treads and stair nosings are available in a safety yellow shade as well as unfinished aluminum. 
Patented Non-Slip Protection 
The 360-degree raised button traction surface of HandiTreads is our exclusive patented non-slip surface. Because the buttons cover the entirety of the surface, they provide anti-slip protection in any direction on the tread. The buttons are uniquely self-cleaning, meaning the surface of the tread dispels up to an inch of water, snow, or ice with each step. As water sits on the treads and begins to freeze, the ice forms around the buttons instead of on top of them so the surface still supplies excellent traction. If the tread does however become covered with a thick layer of snow or ice, a snow shovel can be safely used to clear the treads without damaging them. 
Easy Installation 
All you need to install HandiTreads aluminum non-slip solutions is a power drill or driver. Each tread or nosing includes color-matched wood screws for installation. To install HandiTreads, simply align the treads or nosings on your steps, deck, porch, or ramp, and mount them to the surface using the included screws and your drill. The installation of HandiTreads does not require extensive surface preparation, and they can be installed in any temperature or weather condition. HandiTreads can be installed on wood, composite wood like Trex decking, stone, brick, or concrete. The only difference when installing on stone or concrete is to use concrete pins instead of the included wood screws. 
Lifetime Residential Warranty 
HandiTreads aluminum non-slip solutions are guaranteed to last a lifetime at your home. Once installed, HandiTreads do not require any further maintenance or replacement, making them your permanent slip-and-fall solution. Constructed of hard-wearing aluminum, HandiTreads will not rust even when exposed to moisture for extended periods of time. This durable construction also means that your HandiTreads will hold up under heavy foot traffic and provide unbeatable traction for a lifetime.
Which Non-Slip Solution is the Best Overall?
Now that we have explored different non-slip mat options as well as HandiTreads aluminum non-slip solutions, we can now determine which solution is the best overall. Below we have rated each solution on longevity, non-slip properties, price & investment, and installation. 
Longevity 
HandiTreads

Ice-Melting Mats

Carpet & Rubber Mats

Coir Mats
When it comes to longevity, HandiTreads snag the top spot as they have a lifetime residential warranty. Their aluminum construction lends to their durability. Ice-melting mats come in second because they can withstand winter months as they are able to melt ice and snow. However, it is unclear how long they will really last under heavy foot traffic and may require power adapter replacements because they are used outdoors. Carpet/rubber and coir mats come in 3rd and 4th place respectively, as they are easily damaged by snow shovels and cannot hold up to multiple seasons of ice and snow. 
Non-Slip Properties
HandiTreads

Coir Mats

Ice-Melting Mats

Carpet & Rubber Mats
HandiTreads come in first for non-slip properties with their patented raised-button traction surface. They provide traction in water, snow, ice, and debris, which is more than the other solutions. Coir mats come in second because the dense coir fiber can create great traction in moisture and a light dusting of snow. However, once covered in snow or ice, they are rendered useless. In third place is ice-melting mats because they are able to melt falling snow or sleet before they can turn into ice. This solution isn't higher on the list because water can collect on top of the mats and the mat itself does not create much traction. Lastly, carpet/rubber mats do not provide much traction once covered in water, snow, or ice, and the mats can begin to roll up in the corners to create and fall hazard in themselves. 
Price & Investment
HandiTreads

Coir Mats

Carpet & Rubber Mats

Ice-Melting Mats
Initially, purchasing HandiTreads non-slip solutions may be more expensive than purchasing a couple of coir mats or cheap carpeted rubber mats. However, since HandiTreads are guaranteed to last a lifetime at your home and will not need to be replaced, one installation of HandiTreads will cost less than needing to replace outdoor mats multiple times. In second place is coir mats because they are by far the cheapest mat to purchase, but as previously mentioned, they will need to be replaced. For similar reasons, carpet/rubber mats are in 3rd place as some rubber mats can be pretty pricy yet will also become easily damaged and need to be replaced. Lastly, ice-melting mats the by far the most expensive option. A singular mat can cost over $100, and you will need multiple mats to cover your deck, ramp, or stairs. It is also unclear how long these mats will last and their power adapter can be prone to damage or failure when used outdoors, meaning the adapter or the entire mat will need to be replaced. 
Ease of Installation 
HandiTreads

Ice-Melting Mats

Coir Mats

Carpet & Rubber Mats
HandiTreads come in first place for ease of installation because it is a one-and-done process. Simply align your treads where you want them to go, then drill them in with the included screws. You don't need to wait for a certain temperature or clear weather for the installation. In second place is ice-melting mats as the installation is also pretty simple. You must however pay close attention to where each mat is placed so that it has access to a power source. Using multiple mats will mean they need to be connected to each other as well as an outdoor outlet. Extension cords will likely need to be purchased to ensure your mats can be placed where you need them. Coir mats and carpet/rubber mats are similar in their installation in that they can be placed or laid on the surface, but they will also need to be adhered to that surface if they are to be used safely. Coir mats come in at 3rd because although they are very lightweight and will easily slide around or roll up, it is very easy to adhere them to your deck or stairs. Simple use a power drill and some screws to screw the sections of coir onto your outdoor surfaces. Lastly, carpet/rubber mats have the most difficult installation. These mats can easily slide around or roll up at the corners when it's a windy day. Drilling screws into these mats to adhere them will not work effectively because it can cause the rubber to start ripping from where the screw was drilled. These rubber mats are usually installed onto surfaces using adhesive. This can be a difficult process as adhesive can be expensive and requires extension surface preparation and warmer temperatures to be applied effectivity. It will also need to be replaced eventually as it won't hold up when exposed to moisture and cold temperatures.
Effective & Dependable Non-Slip Protection for Your Family 
The goal of this blog, and the goal of our company is to provide you with both the knowledge and product to keep you and your family safe from slips and falls. Our intensive research and product development allowed us to create a non-slip solution far superior to all the rest on the market. HandiTreads non-slip solutions are your permanent anti-slip solution that will prevent slips and falls for a lifetime. After all, the safety of your loved ones will always be the #1 priority. You can learn more and purchase our aluminum non-slip products here. If you have any questions about our non-slip solutions, give our team of experts a call at 877-328-7389.