As we navigate the winding road of life, there comes a point when we find ourselves less physically capable than when young, a phase that many affectionately call "the golden years." While these years can be filled with well-deserved leisure and reflection, they also present us with a hard question that deserves our utmost attention: What's the cost of a fall when you're over 65 years old?
Reaching the later stages of one's life can be challenging both physically and emotionally. This is well known by anyone with an aging loved one in their life, even better known by elderly individuals themselves. The hardships of managing an aging body can have a profound impact on one's quality of life, and their ability to live with both independence and dignity. In a society that celebrates youth and vitality, the harsh reality of aging and its consequences can be a topic we'd rather avoid. In this article, we will approach this issue head-on, to build an understanding of the financial toll a simple slip and fall can have for seniors, as well as provide solutions to help mitigate and prevent falls before they occur so that you and/or your senior loved ones can age in place, rather than a nursing home.
The Facts
The National Council on Aging's article on fall prevention cites that one in four Americans 65+ suffer from a fall every year. The US Census Bureau reports that in 2020, 56 million Americans are 65 or older, meaning there are more American seniors than ever before. This means that of those 56 million affected by the realities of aging, roughly 14 million stand to suffer fall-related injuries per year. This figure becomes all the more tragic when considering that even a simple injury such as a sprain can initiate a sequence of medical events that require hospitalization.
Those raw figures may be difficult to contextualize–it's hard enough to imagine 14 million of anything, let alone people–so let's break this down further. In 2021, the CDC reported among the American 65+ population, there were 984,188 hospitalizations with nonfatal outcomes related to unintentional falls, costing a total of $52.03 billion.
This jaw-dropping amount is roughly equal to the entire GDP of Ukraine, and for that amount, one could purchase over 9 billion Big Macs or about 29,000 McDonald's franchises. The CDC also reports that the bill for a senior citizen's slip and fall hospitalization is, on average, $52,866. And that's just for hospitalizations. When considering lost wages and quality of life loss, the combined figure becomes even more unwieldy, totaling $262.54 billion (more than twice the net worth of Warren Buffet), which averages $266,761 per person. Of course, these figures only account for nonfatal slip and fall accidents, as any dollar amount pales in comparison to the ultimate price, that being one's life.
Because they are at an incline, stairs, and ramps are among the most dangerous areas for seniors when it comes to falling. Coupled with outdoor slip and fall hazards like rain, ice, and debris, outdoor ramps and stairs can be exceptionally dangerous for seniors. To mitigate this, the application of slip and fall prevention solutions is crucial. 
HandiTreads: The Solution to Dangerous Slip-and-Falls
Now that we've established the alarming statistics surrounding falls among senior citizens, it's evident that this is a matter that deserves our immediate attention. With millions of our older loved ones at risk and the staggering financial burden these accidents impose on our healthcare system, it's crucial to explore effective solutions for fall prevention.
Non-slip measures play a pivotal role in mitigating the risks of slippery steps, which are one of the primary culprits in fall-related injuries. There's no denying that prevention is key, and the adage "an ounce of prevention is worth a pound of cure" couldn't be more relevant. This is where innovative products like HandiTreads come to the rescue, providing a lifeline for aging individuals who wish to age in place without compromising their safety.
HandiTreads Non-Slip Deck Strips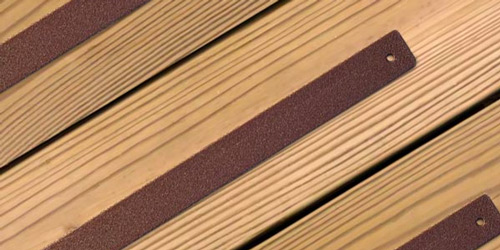 If your outdoor oasis is adorned with pressure-treated wood, trex, or composite decking, then HandiTreads Non-Slip Deck Strips are a practical solution. These 48″ by 1″ aluminum strips feature an electrically bonded colored epoxy tint with an embedded polyester grit, creating a non-slip texture akin to 80-grit sandpaper. Not only do they offer traction in wet weather, but they remain comfortable to walk on, even with bare feet. Whether your deck faces rain or frost, these deck strips maintain their grip, ensuring a safer outdoor space.
HandiTreads Ramp & Deck Treads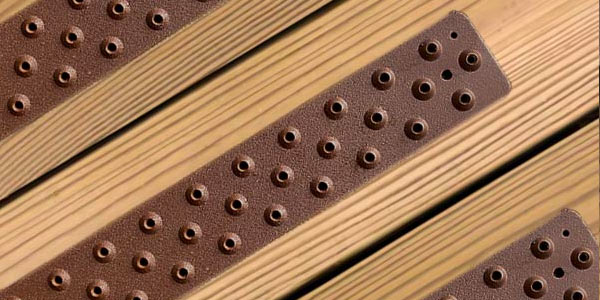 For a versatile and permanent solution to slip-and-fall hazards on decks, patios, landings, and ramps HandiTreads Ramp & Deck Treads are your answer. Crafted from no-rust aluminum, these treads provide instant traction with their patented raised-button surface. They work effectively in various weather conditions, from rain and snow to dirt and fallen leaves. Installing them is a breeze, and they come in a range of popular deck colors, ensuring they blend seamlessly with your outdoor space. Ramps, outdoor ones, in particular, can prove hazardous themselves when covered in leaf litter, snow, ice, or any other seasonal debris. Our treads ensure that the accessibility infrastructure in and around your home stays non-slip and safe for use by those in wheelchairs, as well as for those lending a hand pushing them.
Handi-Treads Non-Slip Aluminum Nosings
Many falls occur at the edge of stair treads, making HandiTreads Aluminum Non-Slip Stair Nosings an invaluable addition to any outdoor stairway. These nosings fit snugly over the edge of your stairs, adding extra grip and traction. Whether your steps are made of wood or concrete, these nosings provide a stable walking surface and prevent further deterioration. Constructed from robust aluminum, they are built to withstand even the harshest weather conditions.
HandiTreads Non-Slip Aluminum Treads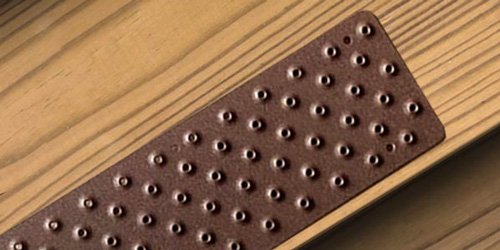 For a cost-effective and permanent solution to slip, trip, and fall hazards, HandiTreads Non-Slip Aluminum Treads are your go-to option. Their patented raised-button surface provides exceptional traction in various weather conditions, making them ideal for use on stairways, decks, ramps, and more. Available in refined earth-toned shades, they not only enhance safety but also the aesthetics of your surroundings. Plus, they're backed by a lifetime residential warranty, ensuring they stand the test of time.
HandiTreads Indoor Options
When it comes to safeguarding indoor spaces against slips and falls, HandiTreads offers a comprehensive range of solutions. Our Stop-the-Slip Non-Slip Grit Treads are perfect for commercial and residential settings, providing high-traction surfaces for areas like woodshops, garages, basement steps, and more. For those seeking to prevent slips and falls on various indoor surfaces, Floor Grip is an exclusive roll-on anti-slip coating suitable for wood, vinyl, and other materials. Stop-the-Slip Non-Slip Grit Tapes are commercial-grade tapes that offer exceptional traction, making them ideal for both indoor and outdoor use. For a virtually invisible yet effective solution, ClearGrip Non-Slip Vinyl Tape and ClearGrip Non-Slip Vinyl Treads are made from soft rubberized vinyl, providing grip for people and pets while blending seamlessly with your indoor environment. These products are versatile, durable, and cater to a variety of applications to enhance safety and prevent slips and falls in your unique situation.
Conclusion
As we confront the sobering realities of falls among seniors, it's clear that we need to take action. Aging in place should be a safe and comfortable choice, and with HandiTreads' non-slip solutions, we can make it a reality. These products provide peace of mind for seniors and their loved ones, ensuring that the golden years are truly golden–safe, dignified, and free from the fear of falls. Let's make a commitment to keeping our seniors on their feet and in the place they call home.